Remy was 12 weeks old when she came to us as a foster along with her sister, in the Spring of 2010. The morning after they arrived they both fell ill and were diagnosed with Parvovirus, Kennel Cough and Pneumonia. Remy was
released after five days, her sister wouldn't be released for another week. They both spent another two months recovering from the effects of their illnesses. It was during this time that Remy became close with one of our
two resident dogs.
Sage is a high energy, Collie mix who was often too much for our older Bichon Frise, Dashiell. So Remy, a high energy Boxer/Siberian Husky Mix, was a perfect fit for Sage. The two quickly became inseparable, spending hours wrestling and chasing each other around the yard until they both were completely exhausted. We never had any intention of adopting another animal, but we also didn't have the heart to separate these newfound friends. So in July of 2010, we adopted Remy (aka "Mush" due to her overzealous cuddling antics towards anyone that ventures to sit down in our house).
My wife and I fostered Allison for a weekend. We found out on the first day that she would be the perfect addition to our family. At first she was very timid but soon adjusted to her new home. Allison AKA Ally fits right in and gets along with her new sisters. She is a very happy little girl. Her tail is always waging. She loves to travel and we take Ally and her sisters where ever and when we can.
Just wanted to share that Oscar and Meyer, aka Bart 1 and Bart 2 were adopted together this weekend by a loving family in Mullica Hill, NJ – these brothers were so bonded together I couldn't bare to let them be adopted separately, I thought I may have to foster them for a long time but this family was thrilled to have both boys join their pack! They will now have an older sister, Gracie an 11 year old jack Russell terrier and Barclay a 4 year old lab/retriever. Attached are some pictures I received already from Christina their new mom, she couldn't be happier to have these new furry sons
hope everyone has a wonderful weekend
After we had our first Jack Russell pass away, our boys wanted to get another dog. Us adults just were not ready yet. We didn't think anyone could fill our hearts after we lost our "Dink". That is when we started fostering for Castle of Dreams. We figured that we could help save some lives along the way.
We fostered "John" from the time he arrived with his mom, "Princess" (now Piper), and his siblings, Anne and Clint in April 2012. John (now Sly) is our 13th foster. From the time our youngest son chose him out of the batch of arrivals, he fit into our crazy home like no other! We all fell in love! He joined our family officially on our older son's birthday. We named him Sly. He has been such a joy and love. He gets along so well with everyone in the family. He now has 2 doggy sibs along with our 2 boys. He loves to cuddle with each and everyone of us. Ever since his arrival, we all had wondered what he is. After some research, we have learned that he is a Rat Terrier mix. We have included a picture of Sly with his yellow lab sis, Maggie and our current foster, Dime.
We continue to foster even though our doggie family has grown and we wouldn't change it. Every pup that comes into our home gets all the love they can possibly handle but Sly has truly stolen our hearts. Thank you to our family at Castle of Dreams for giving us this opportunity to both help save lives and for helping our family grow!
I was introduced to Julie on October 27, 2012, while in Ocean County, visiting my niece Stacy who foster's dogs for CODAR. She happened to be helping out Ilene, Julie's foster family that weekend and in speaking with Stacy earlier in the week kept going on and on what a good dog Julie was. Well it was love at first sight; I couldn't help but go home and tell my husband Greg all about her. We had been talking about adoption but had only been considering it a short time and recently started looking.
A few days later, I followed up and found that Julie was still available for adoption. So Greg and I discussed and he said, let's do it, we're ready and if I felt that way after having met Julie, that we must be the family for her. Immediately following that I went through the proper steps through CODAR's website, CODAR did all their due diligence and we were approved for adoption November 10. On November 11, our 12th year wedding anniversary we headed to the foster mom's, Ilene for a meet and greet, but not before stopping at Petco for a few supplies! Julie barked when we rang the bell and was somewhat apprehensive when we came in, Greg and I both sat down on the floor and she sniffed us with curiosity and started to come around. We went through all the information of the adoption with foster mom Ilene and by time we were done Julie was our new friend. We put on her new collar and leash and after we walked out the door, my husband and I both stopped outside Ilene's house, hugged and both of us just started crying, we so happy.
Julie has brought so much love into our lives and we couldn't be happier. We've been working on the training since she came home and the accidents in the home have very minimal. She's great when it comes to going outside and she loves her walks in the neighborhood and is equally excited about the number of squirrels she can count on any given day. We've been crate training her and she is getting use to the crate being her spot, but she still suffers from separation anxiety, but given our schedules, that is at a minimum. Her social skills around other dogs have improved and always enjoys visiting all her new cousins and friends.
We love our Miss Julie and thank you Castle of Dreams and my niece Stacy for bringing us together!
This is Murphy, relaxing on the couch – feeling right at home! When he was with CODAR, he was named Zeus, but since we already have a rescue cat named Zeus, we decided to name him Murphy! Murphy has become a welcome addition to our collection of rescue animals, and has fit right in. Though he is the youngest of our brood, he has quickly become a "big brother," to all of our animals, and has made his presence known throughout the house and the neighborhood! His foster mom Liana was great and very honest with whatever they knew about him, which only added to the ease of his adoption and settling in!
As soon as I saw Scruffy on PetFinder I knew he was the dog I had been looking for….. when my friends drove me to NJ to get him it was an 8 hr round-trip and Mr. Peanut and I both fell in love with Scruffy! He is a wonderful dog! Scruffy loves running with Peanut in the yard and sleeping in the bed I made for him! He snuggles up next to me at night and gives me kisses…..we dressed up as a family for Halloween and he got to go see Santa this year! He also had a birthday party with his own cake and presents! Thank you so much for giving Scruffy a chance and getting him from the high-kill shelter.. I don't know what I'd do without my beautiful big wonderful boy! Thank you for saving him!
My husband and I have been wanting a dog for a while. We found Blake and he has completely changed our lives. He loves long walks, watching Packers football in his jersey and playing with his numerous toys around the apartment. We couldn't be happier and feel so blessed to have had the opportunity to resue 6 year old, Blake!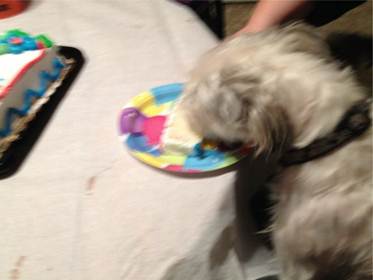 Well since I didn't know when Scruffy's real birthday was…… and they thought he was between 1 – 2 years old I gave him a birthday of 10/10/10……. I just like the date!
So TODAY we had his first birthday party!!!!!
Happy Birthday Scruffy…… I hope you liked your party!!!!!!! We had your brother, Peanut and sister, Emily and your neighbor playmate, Bandit……. and we had our neighbors Laura, Paige, Nicolee and Kaylynn………. and you got 2 new toys!
I doubt he's had a birthday party before……. he seemed surprised!
Ziva White. Adopted for Castle of Dreams January 2009. We are very grateful for Ziva becoming a member of our family.